Rome, Italy is featured in Two Pan Am Episodes, Pilot and Romance Languages
It was First featured in Pilot when Colette ran into a man (John) she once had an affair with in Rome. It turns out that he is married and he is on the flight with his wife and his son.
The Second Time being in Romance Languages when Dean is surprised by the fling with Ginny when she stalks him to Rome with, frightening consequences; Colette takes a precocious unescorted minor; Kate struggles with the dangerous fallout of her strong connection with Niko; and Laura is spellbound by a handsome photographer. While this episode (Romance Languages) is aired as the 13th episode, the events of this episode take place between The Genuine Article and Truth or Dare since Dean's affair with Ginny ended in The Genuine Article and Nico has been in his home country ever since Truth or Dare.
Featured Episodes
Edit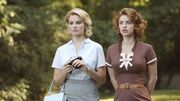 Ad blocker interference detected!
Wikia is a free-to-use site that makes money from advertising. We have a modified experience for viewers using ad blockers

Wikia is not accessible if you've made further modifications. Remove the custom ad blocker rule(s) and the page will load as expected.