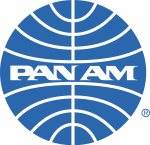 Pan American World Airways, commonly known as Pan Am, was the principal United States international air carrier from the late 1920s until its collapse on December 4, 1991. Founded in 1927 as a scheduled air mail and passenger service operating between Key West, Florida and Havana, Cuba, the airline became a major company credited with many innovations that shaped the international airline industry, including the widespread use of jet aircraft, jumbo jets, and computerized reservation systems. Identified by its blue globe logo and the use of the word "Clipper" in aircraft names and call signs, the airline was a cultural icon of the 20th century and the unofficial flag carrier of the United States.
Pan Am is focused around Pan American World Airways, and the entire main cast works there.
Ad blocker interference detected!
Wikia is a free-to-use site that makes money from advertising. We have a modified experience for viewers using ad blockers

Wikia is not accessible if you've made further modifications. Remove the custom ad blocker rule(s) and the page will load as expected.