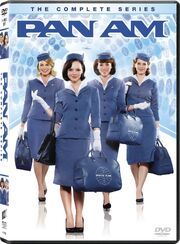 Pan Am: The Complete Series is the official DVD release of the first season of ABC's hit drama Pan Am. It was released on January 29 2013, and came in a 3-disc set.
The Jet Age just hit full swing, and leading the way are Pan Am's elite stewardesses who can navigate any culture and overcome any challenge. From New York City to the edge of the world, they will discover romance, natural dangers and exotic intrigue in a lush recreation of 1963 that will take your breath away. Christina Ricci (Penelope, Fear and Loathing in Las Vegas ) leads an accomplished cast including Margot Robbie (TV's Neighbours), Michael Mosley (The Proposal), Karine Vanasse (Midnight in Paris ), Mike Vogel (The Help ) and Kelli Garner (The Aviator ). Join the journey in all 14 exciting episodes collected in this complete edition of the original series Pan Am.
Featured Episodes
Edit
Special Features
Edit
'The Real Stewardesses of Pan Am: Becoming a Pan Am Stewardess'
'The Real Stewardesses of Pan Am: The Berlin set'
'The Real Stewardesses of Pan Am: The Plane set'
'The Real Stewardesses of Pan Am: The Life of a Stewardess'
Interviews with: Former Pan Am Stewardesses
Interview with Executive Producer Nancy Hult Ganis
Release Dates
Edit
Region 1: January 29 2013
Region 2: March 4 2013
Region 4: N/A
Ad blocker interference detected!
Wikia is a free-to-use site that makes money from advertising. We have a modified experience for viewers using ad blockers

Wikia is not accessible if you've made further modifications. Remove the custom ad blocker rule(s) and the page will load as expected.