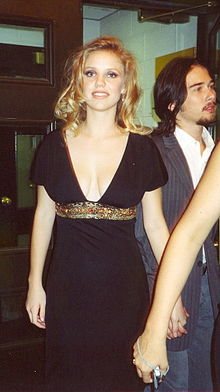 Kelli Garner is an American actress, best known for her role in Man of the House, The Aviator and Thumsucker. She also had a role Green Day music videos "Jesus of Suburbia". She plays Kate in Pan Am.
Filmography
Edit
Pan Am
Neighbors
The Lie
My Generation
Dawn Barbuso / Dawn
Going the Distance
G-Force
The Six Wives of Henry Lefay
Taking Woodstock
American Dad!
Red Velvet
Lars and the Real Girl
Normal Adolescent Behavior
Return to Rajapur
Dreamland
Piggy Banks
I London
I Man of the House
Thumbsucker
The Youth in Us
The Aviator
Law & Order: Special Victims Unit
Regular Joe
Outside
Related
Grounded for Life
Da Mob
Hometown Legend
Love Liza
Bully
Buffy the Vampire Slayer
Time Share
Architecture of Reassurance
This Is How the World Ends
Mermaids (1990)
All s Faire in Love
Bel Ami
War Flowers
The Hero of Color City
Ad blocker interference detected!
Wikia is a free-to-use site that makes money from advertising. We have a modified experience for viewers using ad blockers

Wikia is not accessible if you've made further modifications. Remove the custom ad blocker rule(s) and the page will load as expected.