Ad blocker interference detected!
Wikia is a free-to-use site that makes money from advertising. We have a modified experience for viewers using ad blockers

Wikia is not accessible if you've made further modifications. Remove the custom ad blocker rule(s) and the page will load as expected.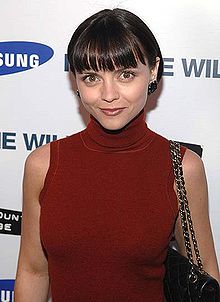 Christina Ricci is an American actress, best known for her performance on the Addams Family and Casper. She plays the role of Maggie, the rebellious stewardess in Pan Am.
She started her career at the age of nine, when she was cast for the role of Wednesday Addams in The Addams Family. Her next role was in Casper, a movie which scored mixed reviews but nonetheless was a huge box office success. In 1997 she started playing in more adult roles, like Vincent Gallo's unwitting abductee-turned-girlfriend in Buffalo '66.
Filmography
Edit
Bucky Larson: Born to Be a Star (2011)
After.Life (2010)
Alpha and Omega (2010)
New York, I Love You (2009)
Penelope (2008)
Speed Racer (2008)
Black Snake Moan (2007)
Home of the Brave (2007)
Cursed (2005)
I Love Your Work (2005)
No Vacancy (2004)
Prozac Nation (2004)
Anything Else (2003)
Miranda (2003)
Monster (2003)
The Gathering (2003)
Pumpkin (2002)
The Laramie Project (2002)
All Over the Guy (2001)
The Man Who Cried (2001)
Bless the Child (2000)
200 Cigarettes (1999)
Desert Blue (1999)
I Woke Up Early the Day I Died (1999)
No Vacancy (1999)
Sleepy Hollow (1999)
Buffalo '66 (1998)
Fear and Loathing in Las Vegas (1998)
Last of the High Kings (1998)
Pecker (1998)
Small Soldiers (1998)
Souvenir (1998)
The Opposite of Sex (1998)
That Darn Cat (1997)
The Ice Storm (1997)
Bastard Out of Carolina (1996)
Casper (1995)
Gold Diggers: The Secret of Bear Mountain (1995)
Now and Then (1995)
Addams Family Values (1993)
The Cemetery Club (1993)
The Addams Family (1991)
The Hard Way (1991)
Mermaids (1990)
All s Faire in Love
Bel Ami
War Flowers
The Hero of Color City